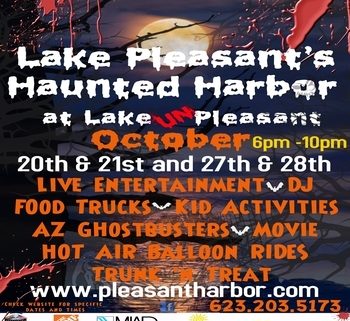 For four nights in October, Pleasant Harbor at Lake Pleasant transforms into something you've never seen before.  Do you have what it takes to stand toe-to-toe with some of the nastiest and gruesome zombies around?  Many a grown man has left the Haunted Harbor shakin' in their boots!
Join us opening night Friday October 20th for our fun filled AZ Ghostbusters Night as the Ghostbuster drive their ECTO 1 to the lake along with the Marshmallow Man!  See them in all their Ghostbusting gear!  Also enjoy a FREE Lakeside peresentation of the movie GHOSTBUSTERS PG 1984.
Food trucks, DJ, FREE Kid Activities, Movie and the AZ Ghostbusters and of course, surviving the HAUNTED HARBOR if you can all in one night!  What else can you ask for!  Remember to bring your lawn chairs or blankets.
For more information, visit FACEBOOK@HauntedHarborAZ or call Pleasant Harbor Events at (623) 203-5173!