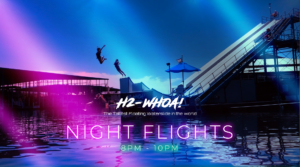 The skies light up on Friday & Saturday nights at the World's Tallest Floating Waterslide.
June through Labor Day — H2-Whoa is offering night sliding or as we call it "night flights". With water temps in the high 70's it's the perfect way to spend a Fri or Sat night with friends and family.
$30 for two hours starting at 8pm until 10pm. All sliders must be off the slide by 10pm so show up as close to 8pm as you can to enjoy a full two hours of slide time. Book online to guarantee your spot. Limited number of sliders permitted for safety reasons.
World's Tallest Floating Waterslide!
Scream down the water chute and soar through the air from one of three maximum trajectory launch slides.  Exhilarating for all ages and abilities. Or dare to leap from the 22′ cliff jump, new for the 2019 season.