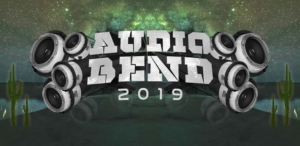 Over the years AUDIO BEND has always done it real big, featuring national & international headliners, beautiful venues, hundreds & thousands of happy people, bouncy castles, water slides, lots of special visual effects, lights & lasers, live painters, fire performers, multiple glowing stages/areas & more. We are bringing you a 2 day & 1 night camping optional festival at Lake Pleasant! It goes from 12 pm Saturday until 12 pm Sunday. There is a general store, restaurant/bar, even paddle boat or kayak rentals & the tallest floating waterslide in the world! We will have a roaming co2 cannon, lots of bands, dj's & live acts.
So far____________________we are featuring:
♫DJ Brace(Canada) -Live Turntablism, DMC World Dj Championship 3 Time Champion, Juno Award Winner (Canadian Grammy), Kid Koala 12 Bit Blues Battle Champion
♫DROPLITZ(Colorado) -Glitchy Dub/ Future Trap Producer, first AZ appearance!
♫Captain Squeegee -Psychedelic Indie Rock Band w/ live horns
♫Mateo Haze aka Matt the Saxy Rapper -Saxy Lyrical Flows
♫Dark Mark -Global Dance Festival competition winner
♫SINA MATIX(Texas) – A Multi Sensory Dirty House Experience
♫Digital Media Jockey – Curator Zonaflow Dodecadon – a RadAudio Visual Experience
♫Sunn Rays -Groovy Beat Producer/ Live Guitar
♫DJ AKSHEN – Open Format, Redbull 3Style Regional Champion & US Finalist, DMC Regional Finalist & NewTimes Best Turntablist
♫Rastafarmers -Live Reggae Band
♫Substation akJay Bissue -Live Analogue Electronics
♫Dad Wolf & Blindone -Homemade Beats/ Lyrical Flows
♫Elikenagi & EONS as ELIKENEONS -Live Synth Tag Team
♫Atom Energy(Tucson) -UK Garage
♫DJ Grund -Electro/Dubstep Producer
♫Disco Stu -Disco Glitch Hop
♫dot.MAX -Producer/Top 40 Happy Hardcore Remixes
♫AuditoryAesthetics aka Duhq(Ohio) -Future Bounce
♫Frank Terry -Tech House
♫SOVA -Dark Techno
♫7evel7 (Level Seven) -Progressive Psytrance
♫JCHA -Bass House/ Electro
♫Lavander -Drum and Bass
♫Dusted. – Dubstep
♫Louis IV -Glitch Hop
♫Mike Gold -Hardstyle
♫Dj Mango -Mixed Genre
♫Grim Crow Mosh(Colorado) -Electro/ Big Room
♫Underdown -Gamecore/UK Hardcore
♫dj Tective -Neural Ragga Drum and Bass
♫BB Galli- Bass House
♫Glow(Bryan Sullivan) -Funky House
Vendors and Workshops thus far:
The Flow Shop
Wandering Home
Alchemy Roast
Erica Maus Peterson
Gez Abel
My Foxy Fly
Live Art thus far(includes Visual Projectors, Painters, Fire Performers & more:
Christmas Glasses
A Dimesion Beyond
Joel Fenton
James Spracklen
Ed Kennedy
Dak Gid
Digital Media Jockey
Sina Matix
Briana's Blacklit Visions
Shad Winans
Tasha Whitesinger
Budz Entertainment
We will be having 5 separate stages.
Music on the grass starts at 12pm and goes until 11pm. There will be an official afterparty with live music included with ticket at an onsite warehouse near the grass from 12am-5am. For $5 you can board the groove cruise afterparty with floating live music from 11pm-5am. You can camp if you want- see fees. It's always nice to kickback after a long night before the long drive home, or even every now and then during the event 🙂
CONTACT AUDIOBEND 2019 FOR PRICING INFO!!  $6 gate fee does apply.