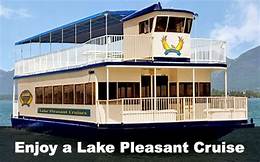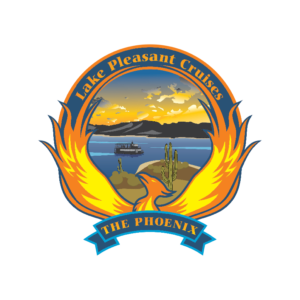 Enjoy a 2-hour sunset cruise on the waters of beautiful Lake Pleasant. This cruise features a delicious buffet-style dinner by Dillon's Restaurants, including Prime Rib with Salmon and BBQ. There is live music by local artists and a full bar on board, with drinks available for purchase (cash only). Sunsets may occur at the beginning or end of your cruise, depending on the time of year. Menu's and prices vary. There is a 40 passenger minimum to cruise. Dates and times subject to change. Reservations required (24+ hours in advance).
CALL LAKE PLEASANT CRUISE FOR QUESTIONS (602) 456-9955
Sunday, September 1st @ 6:00pm
Prime Rib and Salmon Dinner – Adult $65, Child (5-12) $45, Child (0-4) FREE
Menu: Prime Rib & Salmon | Music: TBD
Prime Rib and Salmon Dinner – Choice of Slow Roasted Prime Rib of Beef served with Au Jus and Creamy Horseradish OR Smoked Salmon Fillet with Dill Sauce, Roasted Red Skin Potatoes, Southwest Grilled Vegetables, House Salad with Dressings, and Dinner Rolls with Butter. Apple Walnut Cobbler for Dessert. Coffee included.
CALL LAKE PLEASANT CRUISE FOR QUESTIONS (602) 456-9955
​