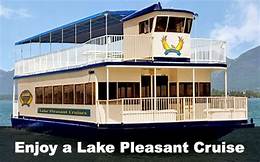 Enjoy a 2-hour sunset cruise on the waters of beautiful Lake Pleasant. This cruise features a delicious buffet-style dinner by Dillon's Restaurants, including Prime Rib with Salmon and BBQ. There is live music by local artists and a full bar on board, with drinks available for purchase (cash only). Sunsets may occur at the beginning or end of your cruise, depending on the time of year. Menu's and prices vary. There is a 40 passenger minimum to cruise. Dates and times subject to change. Reservations required (24+ hours in advance).
Sunday, August 11th @ 6:00pm
Menu: BBQ | Music: Bill Hranek
Prices:
BBQ Dinner – Adult $55, Child (5-12) $35, Child (0-4) FREE
BBQ Dinner – BBQ Beef Brisket, Tender Pulled Pork, Smoked Turkey, Macaroni and Cheese, Smokey BBQ Baked Beans, Creamy Potato Salad and Jalapeño Corn Bread with Butter. Freshly Baked Chocolate Chip Cookies and Fudge Brownies for Dessert. Coffee included.
**Vegetarian Option Available on All Dinner Cruises: Spinach Enchiladas**
Musicians:
Bill Hranek – "Bill Hranek has been entertaining in the Valley of the Sun for 30+ years. He picked up his first guitar for $50 when he was 19, he had a broken arm and was so determined to learn, he cut the cast off himself. He started going to open mic nights and entering contests, people really liked his style. He started picking up gigs and has been going ever since. He has a request book of over 550 songs."
Important Information:
Cash only on board. No outside food or beverages allowed. Boarding begins 30 minutes prior to scheduled departure. Pleasant Harbor Marina charges a $6.00 per vehicle ($2.00 per person on chartered buses) entry fee. Reservations are strongly recommended. There is no guarantee that space will be available for walk-ups. Reservations are required on cruises that include a meal. Payment is due upon booking. Please see FAQ's page for refund information. Cruise tickets can be purchased online, over the phone or at our ticket office located at Pleasant Harbor Marina. We recommend you arrive early if you plan to utilize the golf cart shuttles. Pleasant Harbor Shuttles run 24/7 and are available to anyone visiting Pleasant Harbor. Our cruises may be canceled by the Captain if extreme weather conditions are present. We do not cancel for rain. Please call 602-456-9955 Ext. 1 if you have concerns about the weather. Other restrictions may apply.
NO CANCELLATIONS/REFUNDS
Customers may reschedule their pre-paid, non-meal cruise at any time before the scheduled cruise departure. A minimum 24 hours notice is required to reschedule any pre-paid meal cruise. A $5 per ticket fee will apply to any customer rescheduling their pre-paid reservation.