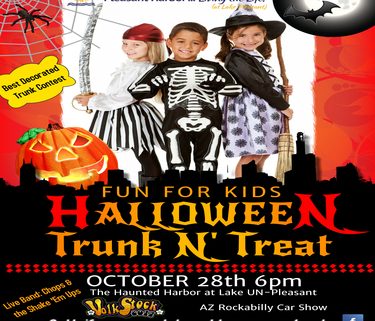 For four nights in October, Pleasant Harbor at Lake Pleasant is transformed into something you've never seen before. Do you have what it takes to stand toe-to-toe with some of the nastiest and gruesome zombies around? Many a grown man, women and children have left the Haunted Harbor in tears!
Legend has it that the worst of the worst monsoons destroyed Pleasant Harbor and what's left will blow your mind! Trust in this, you will not believe your eyes after you enter the Haunted Harbor!
Tonight is the last night!  Calling all ghosts and ghouls to trick or treat around the Haunted Harbor as AZ Rockabilly and Volkstock car clubs bring their cars to show off as they compete for the "BEST DECORATE" trunk contest!  Candy galore! Can you only imagine! Listen to the Live Band: Chops and the Shake 'Em Ups.  Remember to bring your lawn chairs or blankets to enjoy all the fetivities lakeside!
For more information, visit FACEBOOK@HauntedHarborAZ or call Pleasant Harbor Events at (623) 203-5173