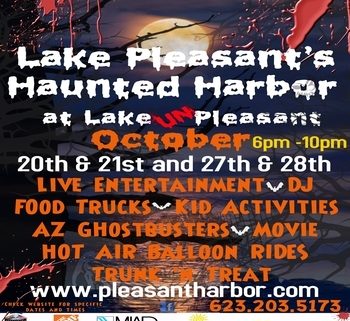 For  four nights in October, Pleasant Harbor at Lake Pleasant is transformed into something you've never seen before. Do you have what it takes to stand toe-to-toe with some of the nastiest and gruesome zombies around? Many a grown man, women and children have left the Haunted Harbor in tears!
Legend has it that the worst of the worst monsoons destroyed Pleasant Harbor and what's left will blow your mind!  Trust in this, you will not believe your eyes after you enter the Haunted Harbor!
Friday night October 27th will have you dancing away to all kinds of fun Halloween music!  Enjoy our Pleasant Harbor DJ as he set the Halloween 🎃 mood all night long with all kinds of festive music.  Food trucks will fill your tummies hardiest of hunger.  FREE kid activities. And try to get thru the HAUNTED HARBOR in one try!  Remember to bring your lawn chairs or blankets and enjoy all the Halloween fetivities lakeside!
For more information, visit FACEBOOK@HauntedHarborAZ or call Pleasant Harbor Events at (623) 203-5173