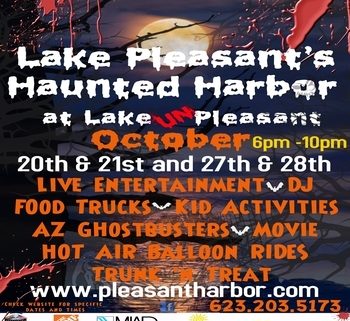 For four nights in October, Pleasant Harbor at Lake Pleasant is transformed into something you've never seen before.  Do you have what it takes to stand toe-to-toe with some of the nastiest and gruesome zombies around?  Many a grown man, women and children have left the Haunted Harbor in tears!
October 21st events include LIVE Band: OTIS AND THE EXTERMINATORS playing all night.  Along with Rainbow Ryders providing tethered Hot Air Balloon Rides! Of course food trucks to feed your stomach's delight, FREE kid activities,  &  barrel train rides and face painting available.
Some come enjoy a fun filled family night listening to an awesome live 🎶🎶 band and visit the HAUNTED HARBOR!!  See if you make it out alive!!! Remember to bring your lawn chairs or blankets and enjoy everything lakeside!
For more information, visit FACEBOOK@HauntedHarborAZ or call Pleasant Harbor Events at (623) 203-5173.